Newsworthy
Winter Weight!
We all like to indulge during the Holidays, but how much weight are we really packing?
By: Jessica Hall
We've all heard that the average American gains between 5 and 10 pounds between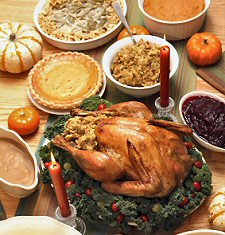 Thanksgiving and New Year's. If you don't snap into shape come spring, that can equal 15-30 extra lb.'s in only 3 years! However, luckily for us, a few studies done over the last decade have found that we're really not as indulgent over the Holiday Season as we're led to believe!
College students especially adore coming home for the Holidays to enjoy their family's famous, tasty recipes they've missed while at schoo. However, after weighing 94 graduate and undergraduate students at the University of Oklahoma before and after their Thanksgiving break, researchers found that the students gained, on average a mere 1.10 pounds! The researchers then separated the students by gender, class standing, and BMI category. The then found that the males gained MORE weight than females, and graduate students gained more weight than the undergrads. All those extra years of schooling must really amp-up appetites! Also, students classified as overweight by their BMI did in fact gain more than students with normal BMI's by 2.2 lbs.
Another study done at the National Institutes of Health conducted by Drs. Jack and Susan Yanovksi and their colleagues also investigated this misconception. Their subjects were mostly employees of the Institutes, with a range of occupations, and a vast array of racial diversity and ethnicities. From the sample of close to two hundred men and women, ages 19-82, their measurements and weights were taken four times throughout the year. They found that people actually thought they were gaining four times as much weight as they had actually gained! Again, those initially overweight or obese did gain more (5 or more pounds), but the participants with normal BMI's, though gained some weight during the Holiday season, actually lost this weight once the Holidays were over. In general, those who already have issues with their weight tend to gain more during the Holidays, and have a harder time leaning out after, than those with normal body mass indexes. The total average gained in the entire study period was in fact only 1.05 lb., with a few (about 9% of participants) who gained at least 5.07 pounds from mid-November to mid-January.
However, everyone is different, and like mentioned previously not everyone loses the Holiday weight so quickly. After the National Institutes of Health participants were done the study, a majority of participants were weighed again after the initial study period in the following September or October, where the researchers found that not only were those holiday pounds not lost, there was an additional average weight gain of 0.45 lb.
Of course, there are many reasons people tend toward weight gain during the holidays; the enticing delicious Holiday treats, the cold weather making you want to stay in and enjoy that warm comfort food, or even the stress that comes along with Holiday preparations or being with large groups of people you do not see very often. Some people also take on the "It's the Holidays, who cares!" mindset and just let their previous healthy diets go down the drain. In addition, some people are sensitive to shorter days and have a seasonal affective disorder that actually causes them to become depressed during winter months and overeat to compensate these sad feelings.
And we can't forget exercise! People are sometimes less physically active in the winter holiday months so they are less likely to burn off the extra calories consumed with the pecan pie. People that stick to strict diets, consuming the same types of food all year, at the same time, in the same quantities, may be overwhelmed by the array of different "bad" or "cheat" foods pushed in their faces, and go off the healthy bandwagon.
"Diet consistency," meaning not changing your eating style for holidays or weekends, has been shown to be an important factor to keep weight off in those who have lost weight and continue maintained that loss. This "diet consistency" seems to disappear with the presence of the Holidays, and is a main reason for the extra pudge.
The National Weight Control Registry, a study begun by Rena Wing and James Hill in the early 1990s, helps explain this "diet consistency". In the study, random group of dieters who have lost at least 30 pounds and kept the weight off for more than a year were examined. They found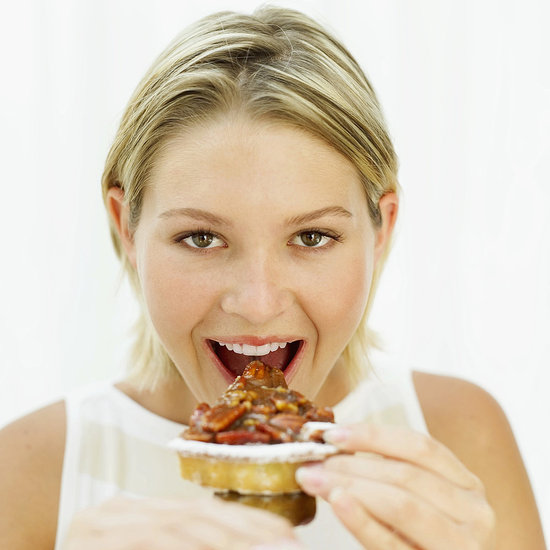 that successful dieters are accountable: they weigh themselves frequently, and watch what they eat often by counting calories or even keeping a food journal. During the Holidays, the idea of how much we actually eat is a little skewed. The famous "eye-mouth gap", the difference between how much people think they are eating and how much they are actually eating, is one culprit for the extra calories. You may not count that extra fork full of stuffing, or sliver of pumpkin cheesecake, but after a few months of this these calories can really add up- and you will be seeing it on the scale.
Obese people sometimes report only one-half to two-thirds of what they are actually eating, and even thin people may report only 80% of the calories they truly consume. The key is educating ourselves about nutrition, portion sizes, and how to listen to our bodies to know what is enough, and when it's okay to have a little more of your Aunt's famous casserole, just because it tastes so good!
So what can we do? Enjoy your family and friends, listen to your body, know when enough is enough, and keep dancing, prancing, and fa-la-la-la-la-ing your way back to a healthy weight after the ball drops!
Photos: celebratewithstyle.com, experiencelife.com, onsugar.com
************************************
Organic Consumers Calls on Natural Products Association to Stop Putting Their 'Natural' Seal on Products that Contain GMOs
OCA Launches National Petition to Stop NPA Consumers Fraud
By: Katherine Paul
Organic Consumers Association

The Organic Consumers Association (OCA) launched a national alert on behalf of consumers asking the Natural Products Association (NPA) to amend its certification process for its NPA Natural Seal to exclude any and all genetically modified ingredients.

"The NPA advertises itself as working on behalf of consumers who want to purchase products that they believe are safe and authentically natural," said Ronnie Cummins, Executive Director of the OCA. "Yet nowhere in its personal care products certification process does the NPA screen for genetically modified ingredients, and nowhere on these products is there a label that says 'may contain genetically modified ingredients'. This is an outright act of consumer fraud."

On its website, the NPA states: "The NPA Natural Standard is based on natural ingredients, safety, responsibility and sustainability." The website further states: "A product labeled 'natural' should be made up of only, or at least almost only, natural ingredients and be manufactured with appropriate processes to maintain ingredient purity."

The NPA website provides a list of ingredients (click here for list) approved under the personal care products NPA Natural Seal certification process. Nowhere on that list is there any indication that the NPA differentiates between GMO and non-GMO ingredients.

"The NPA profits off of retailers, whom it charges for this certification process," Cummins said. Worse yet, the NPA deceives consumers by leading them to believe that the products they buy, stamped with the NPA Natural Seal, are truly natural. There is nothing natural about GMOs."

The NPA recently came out publicly against Prop 37, the California Right to Know Genetically Engineered Food Act, despite claiming that it supports the consumer's right to know. Some of the NPA's members' parent companies, including DuPont, BASF, Bayer, have contributed millions to the NO on 37 campaign.

The OCA urges all consumers to sign the letter (click here to sign) to key representatives of the NPA.

The Organic Consumers Association (OCA) is an online and grassroots non-profit 501(c)3 public interest organization campaigning for health, justice, and sustainability. The Organic Consumers Fund is a 501(c)4 allied organization of the Organic Consumers Association, focused on grassroots lobbying and legislative action.
CONTACT: Organic Consumers Association
Katherine Paul, 207.653.3090, katherine@organicconsumers.org
To read more, check out the Organic Consumers Association's website at http://www.organicconsumers.org/
*******************************************************
New Studies Add to Evidence Linking Soda to Weight Gain

Statement of CSPI Executive Director Michael F. Jacobson


WASHINGTON--Two important new studies are adding to the weight of evidence showing that soda and other sugary drinks promote weight gain and obesity. Considering the enormous personal and economic costs of obesity, it's high time for concerted action at all levels of government to reduce consumption of sugary drinks. We can start with major education campaigns, requiring warning notices on labels, imposing substantial taxes on sodas, and eliminating soda from public buildings and parks.

Nutritionally worthless sugary drinks are the largest single source of calories in the American diet. Consumers who want to reduce their risk of becoming a statistic in the next round of studies linking soda to weight gain and obesity would be well advised to sharply reduce or eliminate their consumption.


Contact: Jeff Cronin, 202-777-8370 orClare Politano, 202-777-8316

The Center for Science in the Public Interest is a nonprofit health advocacy group based in Washington, DC, that focuses on nutrition and food safety policies. CSPI is supported by the 900,000 U.S. and Canadian subscribers to its Nutrition Action Healthletter and by foundation grants.

Like us on Facebookat http://www.facebook.com/cspinet
Follow us on Twitterat http://twitter.com/cspi
**********************************
I'll have a bowl of rice, hold the arsenic, please! - The FDA and EWG Weigh in on Arsenic Levels in Rice
The Food and Drug Administration (FDA) monitors hundreds of foods and beverages that make up the average American diet; looking for substances that could be harmful to
consumers, including industrial chemicals, heavy metals, pesticide residues and radiation contamination.
On September 19, 2012 two reports went out from the federal Food and Drug Administration and Consumer Reports magazine showing something very disturbing: popular rice-based foods are contaminated with inorganic arsenic, a chemical that under some circumstances has been associated with long-term health effects. Arsenic is a known human carcinogen, that occurs in many minerals, usually in conjunction with sulfur and metals. The FDA has analyzed nearly 200 samples of rice and rice products and is collecting about 1,000 more for testing. As described in fao.org's "Rice if Life" article, "A symbol of cultural identity and global unity, rice is the world's most popular food." Rice is cultivated in 113 countries, and is the staple food for over half the world's population. Since rice is processed into many products, the FDA tested samples include products such as cereals, rice beverages and rice cakes. Data collection is the critical first step in assessing long-term health risks and minimizing thos hazzards in society.
As explained in fda.gov's article about the contaminated rice (to read, click here) arsenic levels can vary greatly from sample to sample, even within the same product. FDA's testing of the initial samples found these average levels of inorganic arsenic in micrograms (one millionth of a gram):
Rice (other than Basmati rice): 6.7 per 1 cup (cooked)

Rice cakes: 5.4 per 2 cakes

Rice beverages: 3.8 per 240 ml (some samples not tested for inorganic arsenic)

Rice cereals: 3.5 per 1 cup

Basmati rice: 3.5 per 1 cup cooked
Thanks to the scientific literature and date now collected, the FDA is not recommending that consumers change their consumption of rice and rice products at this time, but that people eat a balanced diet containing a wide variety of grains. However, The Environmental Working Group sees this issue a bit differently; "In many cases the arsenic found in food comes from natural sources, but that doesn't mean it is safe," said Sonya Lunder, senior research analyst at EWG. "Arsenic is known to cause cancer in humans, and FDA needs to do everything possible to reduce people's exposure. Unfortunately, the agency has spent the past 20 years testing foods without making any recommendations on what consumers can do to reduce their risk. The public should not wait for FDA; there are number steps people can take that will dramatically reduce the amount of arsenic they ingest."
The Enviromental Working Group offers several easy-to-use tips on how you can reduce your dietary exposure to high levels of arsenic:
What consumers can do to reduce their own exposure:
Eat a varied diet and try out alternatives to rice such as quinoa, barley, grits/polenta, couscous or bulgur wheat.

Boil

brown rice

in a lot of water (as you do with pasta). Evidence suggests that can lower arsenic levels. White rice does not hold up as well to this method of cooking.
What parents can do to reduce children's exposure:
For babies, try orange vegetables such as sweet potatoes and squash, bananas and avocados as first solid foods.

Buy non-rice baby cereals, such as oatmeal or mixed grains.

Do not use rice milk as a dairy substitute.

Limit fruit juices to a maximum of one-half to one cup a day.
The FDA states, "We understand that consumers are concerned about this matter. FDA is committed to ensuring that we understand the extent to which substances such as arsenic are present in our foods, what risks they may pose, whether these risks can be minimized, and to sharing what we know," says FDA Commissioner Margaret A. Hamburg, M.D.
Once FDA has completed its analysis of about 1,200 rice products, the agency will analyze these results and determine whether or not to issue additional recommendations for consumer ingestion, which will include strategies designed to limit arsenic exposure from rice and rice products.
The FDA agency is not working alonee. By joining forces with other government
agencies, industry, scientists, consumer groups and others to study the issue and assess risks of arsenic levels in rice, the FDA is covering all basis for human safety.
"It is critical to not get ahead of the science," says Michael R. Taylor, FDA's deputy commissioner for foods. "The FDA's ongoing data collection and other assessments will give us a solid scientific basis for determining what steps are needed to reduce exposure to arsenic in rice and rice products."
So, you're probably asking yourself, "What do I do in the meantime if I enjoy eating rice and rice products?"
"Our advice right now is that consumers should continue to eat a balanced diet that includes a wide variety of grains – not only for only for good nutrition but also to minimize any potential consequences from consuming any one particular food," says Hamburg. A balanced diet is key to making sure one is not over-consuming any particular type of food- yes, even rice cakes.
To learn more about arsenic and how to reduce your risk of over exposure, how arsenic appears naturally in the environment, and other infomration about arsenic in food, click here for the offical FDA article on the issue, and here for the Environmental Working Group's official website on arsenic levels!
**
******************************************************************
Performance Nutrition for Vegetarians®
"

Citius

,

Altius

,

Fortius

with Plant-Based Diets"
Welcome to the 30th Olympic Summer Games where faster, higher, stronger
captures the spirit all the talented athletes worldwide. While nutrition can make or break gold medaling performances, some athletes have stepped up their diets to an even higher level.
Take Lizzie Armitstead, 2012 Silver medalist for road cycling or Dylan Wykes, Canada's fastest marathon in decades both who adhere to a meat-free lifestyle. Rumor has it even the tennis phenoms Gold medaling Venus and Serena have adopted vegan diets.
With permission from: http://www.bigcityvegan.com/blog/health-and-fitness/vegan-vegetarian-olympic-athletes
While there's mounds of evidence to support plant-based for health, sport & life, coaches remain apprehensive about advocating vegetarian diets for their athletes. Why?
Coaches are genuinely concerned that vegetarian athletes will not keep up with their carnivore peers nor maintain the demands of high performance training. Accurate?
Healthy vegetarian athletes can for the most part meet all their nutritional needs despite limiting the use of animal products or eliminating them altogether. Some research even suggests they even have an advantage over their carnivore counterparts.
Potential Benefits
Regardless of commitment level, when consumed nutritiously, vegetarian diets are virtually always rich in both simple and complex carbohydrates, providing efficient fuel for all training intensity levels.
In addition, vegetarian diets tend to include larger quantities of phytochemicals—healthy plant-based compounds such as antioxidants that help protect muscle cells and assist with building strength, extending endurance, and enhancing recovery. With meat removed from the dietary equation, vegetarians typically don't eat as much fat—especially saturated fat—or cholesterol. And the fat they do consume is more often "healthy fat," such as the omega-3 fatty acids found in avocados, nuts, and seeds.
What the Experts Say
In my first book, The Vegetarian Sports Nutrition Guide: Peak performance for Everyone from Beginners to Gold Medalists (Wiley 2000), I featured 17 Olympian and World class athletes representing dozens of sports including—football, basketball, wrestling, swimming, equestrian, running, triathlon, even curling who have excelled on plant-based diets. Some critics concede that veggie diets seem legit for endurance sports—aerobic, mitochondria burning energy from carb-rich foods like grains, soy, beans, fruits and veggies, & dairy alternatives- that's a no brainer. But its benefits are slowly starting to resonate with power athletes who want to build strength and muscle too.
In 2009, The American Dietetic Association and Dietitians of Canada gave a thumbs-up to vegetarian diets for sports training in a Position Statement on Nutrition and Athletic Performance. This official seal of approval supported what many sports dietitians had been observing for years—that all else being equal, a carefully chosen plant-based training and competition diet can actually be superior to an omnivore's regimen.
Ready to Go Veggie?
Committing to vegetarianism may give you an advantage but it doesn't mean you have to toss all your fave animal-based foods. Since vegetarians come in all flavors, you can pick the option or extent of plant-based that you're ready to conquer. Here are some of the options from the strict vegan to the more lenient flexitarian.
Vegan. These individuals exclude all meat products, dairy, and eggs. In general, they avoid any products derived from animals, which may include food items such as honey and gelatin. Often they'll even refuse to wear silk, wool, or leather clothing. Without careful dietary planning, they are at increased risk for deficiencies in vitamin B12, zinc, calcium, creatine, and some essential amino acids.
Fruitarian. Members of this subset of veganism restrict their diet even further, eating only raw or dried fruits and vegetables, seeds, honey, and oil. Of all categories of vegetarians, these are at highest risk for vitamin, mineral, protein, and essential fat deficiencies.
Lacto-vegetarian. As a rule, lacto-vegetarians abstain from meat but do drink milk and eat dairy products. Accordingly, they have less difficulty meeting their dietary protein, fat, and calcium needs than non-dairy-eating vegetarians. Ovo-lacto-vegetarians are a similar category, including eggs in their diet as well as dairy.
Pesco-vegetarian. These individuals eat fish and other seafood, but no meat. They may or may not include dairy products and eggs in their diet, and they aren't typically predisposed to any significant nutrient deficiencies.
Flexitarian. This is just what it sounds like—flexitarians are flexible in their food choices, but typically eat meat only occasionally. Some use this term to describe a diet with low or moderate amounts of white meat such as chicken and pork, but no red meat.
Getting Started
Should you choose to try a vegetarian diet to boost your performance, balance is key—get ample amounts of vitamins, minerals, phytonutrients, fats, carbohydrates, and protein for performance. Not ready for this challenge and take the risk for dietary deficiencies in things like iron, calcium, zinc, vitamins D and B12, and essential fats and amino acids.
Calories
When fueling for sports, one of the most basic concerns is adequate calorie consumption. Some vegetarians find this difficult because plant-based foods often have lower calorie densities and more fiber. An easy way to overcome this is to consciously include calorie-dense foods at mealtimes like soy- and tofu-based meat alternatives, soy milks, nuts, nut butters, seeds and oils, textured vegetable proteins, tempeh, and fruit juices and smoothies. Placing an extra emphasis on consuming calories throughout the day in the form of snacks and beverages to increase energy intake makes it easier rather than stuffing calories into 3 large meals.
Carbs
Getting enough carbohydrates for vegetarians seems like a cinch since the bulk of food from grains, fruits, vegetables, dairy, and dairy substitutes is carb based. How much? Figure approximately 6 to 10 grams per kilogram of body weight (2.7 to 4.5 grams per pound) per day to replenish glycogen stores and fuel activity. Most fruits and starchy foods provide about 15 grams of carbohydrates per serving, while milk and dairy substitutes provide around 12 grams per cup, and vegetables roughly 10 grams per cup.
Protein
As for protein, the American Dietetic Association advises that vegetarians eat roughly 10 percent more than the standard recommendation for meat eaters, because many non-meat proteins are less bioavailable than meat-based sources. This means an optimal daily intake for vegetarians is somewhere in the range of 1.3 to 1.8 grams per kilogram of body weight (0.5 to 0.8 grams per pound), depending on the intensity of training.
Even with meat out of the equation, there are many high-protein vegetarian food and beverages choices, including soy based "meats, milks, tofu, miso & tempeh; beans and peas, nuts, sport bars, and protein shakes & dairy products & fish for those who choose to include. Getting enough protein may require some planning ahead, especially when travelling and at competition, that's when bars like SOYJOY & sport shakes like UCAN or recovery milks like Rockin Refuel can make it easier to get a quick fix on the run.
Keep in mind different protein sources contain different essential amino acids (EAAs)—amino acids the body does not produce naturally so they must be obtained through diet. Most veggie sources may be rich in one particular EAA, but very little of others with the exception of soy, the only complete EAA plant based food. Therefore, variety is imperative for vegetarian athletes. Falling into carb ruts, low protein diets can be the downfall for the highly competitive athlete.
As for protein supplements beyond shakes and bars, creatine may have its greatest impact, especially vegetarian power athletes. Research shows that vegetarians consistently have lower creatine levels than omnivores, so some study authors suggest vegetarian athletes may benefit from moderate creatine supplementation. Any athlete considering supplementation should first undergo a dietary analysis by a nutrition expert (RD, CSSD) to see if necessary & safe to supplement with creatine.
Fat
Fats are essential for long-term energy, hormone production, and the absorption of fat-soluble vitamins including A, D, E, and K. Research suggests that while one of the benefits of vegetarian diets is a lower fat diet than meat eaters, and may account for numerous health benefits, such as lower lipid levels and body mass index, reduced risk for hypertension and diabetes, but too little fat can be detrimental for health and performance.
For example, diets that do not include fish or eggs can be low in essential omega-3 fats. Athletes who avoid these foods should consider additional soy, walnuts, almonds, pistachios, flax, and canola oils to meet their omega needs. Supplements are also an option, even algae-based alternatives to fish oil for vegans' rich in specific omega-3 fatty acids such as docosahexaenoic acid (DHA) and eicosapentaenoic acid (EPA).
Vitamins and Minerals
This is rubber sometimes meets the road—those who can maintain a healthy vegetarian diet vs. those who cannot keep up without meat.
Since carnivores get most of their vitamin B12, iron, calcium, and zinc from animal products without knowing it, vegetarians may be at risk for deficiencies in these vitamins and minerals which impact everything from energy, power, strength, endurance; protein synthesis, the immune system, skin, hair and new blood cell formation.
One key vitamin for which strict vegan vegetarians may be at risk of deficiency is B12. Found only in animal products and foods fortified with it, B12 is an important coenzyme required for the normal metabolism of protein, carbohydrates, and fats. Getting enough B12 can be obtained through fortified cereals, bars, shakes, rice and soy milk, and nutritional yeast. If a vegetarian athlete is unsure of their B12 level, a simple blood test can determine if they have a sufficient supply.
In the case of zinc alone, strenuous exercise can lead to increased losses through sweat and urine. Studies have also shown that zinc levels are typically lower in vegetarians than omnivores. To further complicate matters for vegetarians, a plant compound called phytate found in the hulls of many nuts, grains, and seeds may inhibit zinc bioavailability. Eating fortified cereals and other zinc-rich foods together with citrus fruit, will help promote absorption.
Calcium is essential for bone and also plays an important role in circulatory and nervous system health. Low calcium intake can increase the risk of stress fractures, especially in amenorrheic female athletes. Some research suggests that vegetarians may have lower calcium needs than omnivores because the higher protein and sodium intake typical of meat eaters leads to greater calcium excretion, but the jury is still out on that theory. In any case, there's no need to gamble, since calcium is easy to find in dairy products and fortified dairy alternatives like soy, rice, and almond milks, tofu, juices, shakes, and greens.
Iron is critical for all athletes because it synthesizes hemoglobin and myoglobin, which transport oxygen to muscles. The form of iron found in plants, called non-heme iron, is less bioavailable than the heme iron found in meat and fish. Another iron-related issue is hemolysis, or the destruction of red blood cells, which can be caused by high-volume endurance training.
While many vegetarians take an iron supplement to ensure they get an adequate supply of this vital mineral, it's not hard to get enough iron in the vegetarian diet through beans, fortified cereals, greens, and dried fruits. Also consuming iron-rich foods along with citrus fruit and other fruits and vegetables rich in vitamin C, such as broccoli, red and green peppers, and strawberries, helps to increase iron absorption.
Ready-Set-Veggie Go
The key to test-driving any performance eating plan is to make sure you meet your personal daily nutritional needs whether carnivore or not. Getting the best success from your vegetarian program will come down to 3 ingredients: ensuring adequate nutrition for training and competition by working one-on-one with a nutritional expert to calculate your personal best plan & accessing resources like books and online veggie websites for additional information, guidance and support.
Most important, try the program OFF-SEASON so it doesn't affect important competitions like the Olympics where faster, higher stronger is always the number one goal.
For more information on Vegetarian Diets, go to:
http://www.amazon.com/The-Vegetarian-Sports-Nutrition-Guide/dp/0471348082- The Vegetarian Sports Nutrition Guide (Wiley, 2000)
www.HealthyMiami.com-HealthyMiami for recipes, grocery lists, restaurant reviews, eco home and body products
www.SoyJoy.com-SOYJOY, home of delicious bars, information, coupons & contests
www.soyconnection.com –research & recipes for the medical community, public and press
http://www.vrg.org/ -non-profit dedicated to ensuring vegetarian diet success
http://www.organicathlete.org/ -team for vegetarian athletes to join and unite.
Contact: Jeff Cronin, 202-777-8370 orClare Politano, 202-777-8316
The Center for Science in the Public Interest is a nonprofit health advocacy group based in Washington, DC, that focuses on nutrition and food safety policies. CSPI is supported by the 900,000 U.S. and Canadian subscribers to its Nutrition Action Healthletter and by foundation grants.
Like CSP on Facebookat http://www.facebook.com/cspinet
Follow CSP on Twitterat http://twitter.com/cspi
Performance Nutrition for Vegetarians®
"Citius, Altius, Fortius with Plant-Based Diets"
---
Almond Nutritional Info – Not what you may think!


You don't have to be an RD or health nut to know how many calories are in a serving of almonds- now-a-days these little super foods are all the craze and their nutritional values are spread throughout common magazines and popular daytime television shows. However, a study conducted by scientists from the United States Department of Agriculture (USDA) and released in the August issue of the American Journal of Clinical Nutrition (AJCN) provides a new understanding of almonds' calorie count, showing that whole almonds provide about 20 percent fewer calories than originally thought!

How can a food's calorie count suddenly change when the composition of the food itself hasn't? The answer is that David Baer, PhD, and his team from USDA's Agricultural Research Service (ARS) used a new method of measuring the calories in almonds, which built on traditional methods and allowed the researchers to determine the number of calories actually digested and absorbed from almonds. The data that resulted showed a one-ounce serving of almonds (about 23 almonds) has 129 calories versus the 160 calories currently listed on the Nutrition Facts Panel. The results may have implications for certain other foods as well.

The California almond industry is now working with government agencies to determine what these study results may mean for Nutrition Facts panels and other nutrition education about almonds.
Hooray for even healthier snacking with less calories! Munch on!
Read more at:

Article @ bit.ly/MRWMZC.
Almonds on FB @ on.fb.me/GSA5nU
Almond Board of California at @ www.almondboard.com

Wendy H. Weiss, MA, RD
Food&Nutrition
Porter Novelli
for The Almond Board of California
C-201-310-2293
wendy.weiss@porternovelli.com